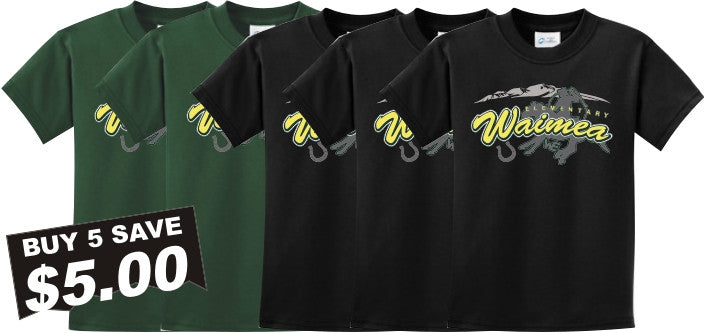 Waimea Elementary Starter Package
Order Carefully!
We would like to introduce our started pack selection. By selecting a starter pack of a selected size, you will receive 5 shirts with a savings of $5.00. Please see the selections and quantities that are in the starter package below.
Starter Package Deal includes:
2 - Forest Green
3 - Black
The starter package is for uniforms only and no other specialty item such as long sleeves or zipper hoodies. Unfortunately the package is NOT interchangeable with other color selections or sizes. You are welcome to select additional items from the collections below.
Pay attention to the size(s) when adding to your cart.  Order a size that will be comfortably wearable throughout the year.
You can select sizes by simply using the drop-down menu.
- - - - - - - - - - - - - - - - - - - - - - - - - - - - - - - 
Youth Sizing Specs:
2-4 is equivalent to a Youth X-Small 
6-8 is equivalent to a Youth Small 
10-12 is equivalent to a Youth Medium 
14-16 is equivalent to a Youth Large
Available Sizes: 2-4 up to Adult 3X-Large
---
---
More from this collection